Parents are the most important people in a child's life. From the time they are born children learn most from their parents and/or caregivers, and it is in their company that they feel more comfortable.
It is the months from conception to the child's third birthday that are pivotal to optimal brain development, and that's before he/she even enters pre-K. 
I believe that the earlier we begin exposing children to a new language the better it is. 
The NEW Mi Primer Inglés for Babies and Mi Primer Inglés for Toddlers in digital format with audios for dialogues, songs, rhymes and fingerplays as well as read aloud of the picture books included may help you: 
Expose your little one to the English language early in life;

 

Learn vocabulary and expressions in the English language that you can use from day 1. The vocabulary and expressions may be used in everyday activities and routines such as bathing time, eating time, play time, etc.

 

Engage with your child in the activities developed while practicing the language.

 

Immerse your little one in everyday activities that help develop the "whole child" to promote and foster his/her acquaintance of a new language.

 

Introduce your baby or your toddler to activities that stimulate them and help them develop.

 

Learn and sing to your child lullabies and typical children's songs.

 

Learn and recite to them popular nursery rhymes.

 

Have fun with your child while acting out finger plays.

 

Read short, beautifully illustrated stories to them.

 

Provide sensory stimulation exercises to engage your child in the English language in a fun way.

 
We believe that by using our digital materials with their babies, parents can learn the target language too, which ensures that the language will be practiced and reinforced every day at home; possibly even reaching other members of the family.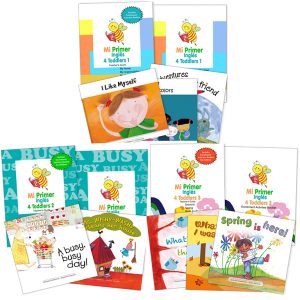 Keep in mind that the first years of a child's life are extremely important for their development. It is from the time they are born that the brain starts to build neural connections and when they begin to acquire language. Children will then learn to talk using only the sounds and words they pick up from their environment, most importantly from their parents and caregivers and if we expose them to two or more languages their brain will acquire the ability to recognize and speak in those languages later on.