Fall is here!!!
This year's Fall Season has become overwhelming with changes taking place in all areas of our lives. One of the most challenging in the educational area.
Technology has become essential in teaching and this has increased the need for new educational materials based on digital formats.
Our newest line of materials–which are now being published- for engaging little ones in English takes care of that.
Since January we have been working on converting all our resources to digital format so you can connect and teach young children in different contexts. These resources are available for IOS and Android on the Apple Books Store , on Google Play and on the Caribu App.
Following is an update of some of the resources created and that can be used as the core curriculum or as a supplement to any program:
Curriculum guides: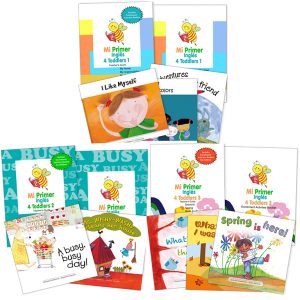 This new format has all the songs from each unit incorporated as well as the dialogs and read alouds. In this way, we make the guides more teacher friendly and also easier to use by parents who may need help and guidance when exposing their children to a new language. This is especially crucial for parents who have little or no background in the target language.
Pictures Books in English  for children from birth to 8 years of age.
Online interactive activities
Online interactive activities for each of our Picture Books to reinforce the acquaintance of children's language skills in a fun and natural way.
We will continue to convert and publish the rest of our Curriculum Guides and the Enrichment activities Booklets for children as the year continues.
Likewise, we are looking forward to continue adding more digital features to all Languages4kidz materials based on your feedback.
Our main goal during these difficult times is to provide parents and teachers with resources that work well in ANY setting and therefore help very young children acquire an additional language early in life.